We know, down to the acre, where the tomatoes in our products were grown.
There is something special, simple and pure about produce fresh off of the farm. Fresh is the only way we know how to create culinary delights in our family.
All Seaside Grown products are made by hand in our kitchen. Two pounds of our family's tomatoes are found in each jar of Seaside Grown Bloody Mary Mix, and you can rest assured that they are fresh from the field. 
We offer so much more than Bloody Mary Mix. The same attention to quality, farm-fresh ingredients holds true in our jams, salsas, BBQ and hot sauces.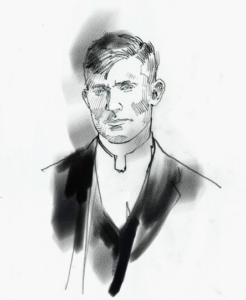 The Man Behind it All
How our hearty and delicious Bloody Mary Mix came to be.
It all started with Gustav "Gus" Sanders, the tax collector for Beaufort County, who began the first commercial tomato farm on the East Coast in the early 1900s. Since then, the Sanders Family has been known for growing the best tasting, mouthwatering tomatoes on the East Coast.
While the tomatoes themselves started with "Ole Man Gus," it wasn't until his great-great Grandson Ross went to college that he discovered two things: hangovers and the perfect Bloody Mary. It happened to be harvest season, and his college buddies came to town—one thing led to another and that's how our hearty and delicious Bloody Mary Mix came to be. This year, we've added more delicious products to our list, all made from the same beautiful estate-grown tomatoes.
Our ingredients are pure and our process is earnest.
When you mix family, six generations of tomato growers, great friends, the warm sea, summertime harvests and God's finest tomatoes, you have just uncovered the magic behind Seaside Grown!