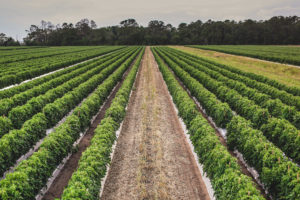 History repeats itself each Spring at Chisholm field.
Just after the last frost, on a pretty little peninsula just across the sound from Hilton Head Island, the Sanders Family plants the first seedling of what will become part of the 25-million pound annual harvest of God's finest tomatoes.
Tradition was born one hundred and fifteen years ago in this very field and today, a family celebrates their heritage, sharing their love of farming estate-grown, hand-picked, vine ripe tomatoes with the world.
"

In It Together

"

Hand Sanitizer & COVID-19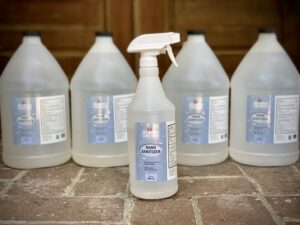 "A time to see what would happen if the world stopped." We read this statement in an article not too long ago and it really hit home. For us, it was all the feels rolled into a sentence. Deep breaths were taken as we began to feel the effects of nearly the entire world being forced into a shutdown. A temporary "pause button" was placed on our lives and it was wreaking havoc on our farms, businesses and lives. Though it was intended so our health systems could catch up, it became a mere test of relevance and necessity for many. Supply and demand were finding places as polar opposites, meeting nowhere near a good crosspoint. What began as two weeks of quarantine/shelter-in-place/ shutdown rapidly turned into six. In the same article, the writer asked "how much of the old would you let back in now that you have had the unexpected chance to see what life is like without what was?"
As Seaside Grown began facing the realities of layoffs and furloughs, an idea was born. What if we could use our bottling plant to manufacture hand sanitizer? There was only time for one deep breath before jumping in with both feet. Here we are, eight weeks later and we haven't slowed down. The serious shortage of hand sanitizer in our country became an instant blessing to our company. Our jobs and livelihoods were spared, as we worked to satisfy the needs of so very many people from coast to coast and beyond.
Our world as it was will never be the same. We pray for peace, comfort, safety and prosperity for our country. In trying to answer the question set forth above, "how much of the old would you let back in now that you have had the unexpected chance to see what life is like without what was?" Our answer… Not all of it, but a lot of it! Our company was born from the roots of a generations-old tomato farm, where hard work and perseverance against the things out of our control are always present and the quest to aid humanity in general is our norm. The perseverance of an entire world of people motivated to get back to what was is a serious, scary, oddly exciting, and interesting thing to navigate and experience. As we are trying to resume business as usual, we have kept our sanitizer production operation going— as long as there is a need, we intend to help.
For Product Information and MSDS Click Here